These names conjure up different images for different people. What are these strange objects? They may combine incredible beauty and value. They may be common or rare. They may appear to be so perfect as to seem "supernatural".
Some glisten with a geometric perfection. Above all, these strange objects are unique, and they form part of our natural heritage. Fine mineral specimens are a finite and rapidly disappearing resource.
The Minerals Heritage Museum (MHM) has a display located in Brisbane, and aims to preserve, display and educate the public about these beautiful and wonderful freaks of nature.
Countless millennium have passed since these objects were formed beneath the earth's crust, but their fragile perfection can be destroyed easily in seconds. Modern mining techniques makes this outcome almost inevitable. Our MHM display encompasses a small but important part of our natural heritage that has been saved from destruction. A dedicated group of enthusiasts, aided by benevolent collectors and visionary mining companies have made our museum collection's colourful display possible. Please enjoy our collection, and contemplate these amazing wonders of nature!
IMPORTANT INFORMATION !!!!!
The MHM collection is presently in storage at the Queensland Museum, Southbank, Brisbane , Queensland until further notice.
The Queensland Museum are renovating the Science Centre and a consequence we have had to move our display until this is completed. We will notify when the display is again up and running!
Apologies for any inconvenience! - 10 January 2018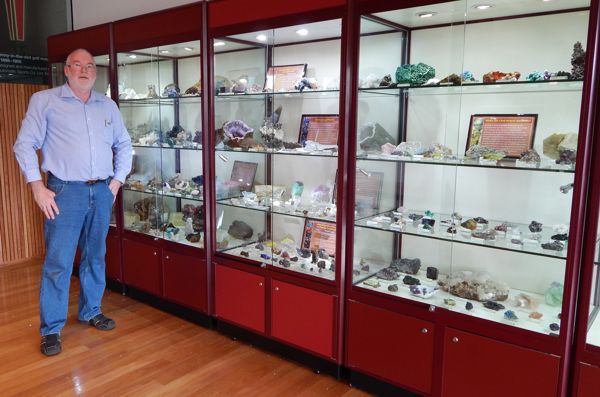 Hon. Curator Tony Forsyth with our mineral cabinets cabinets
within the Queensland Museum, Southbank, South Brisbane.
The MHM has a permanent display of high-quality mineral specimens available for viewing on the ground floor of the Queensland Museum, Southbank, Brisbane, Queensland. Although not large by many museum standards, (five large display cabinets at present) the numerous high quality specimens comprise the best public mineral display in south-east Queensland. We would love to see you visit. Please fill in our visitors book with your comments!
From time to time we also mount displays at other venues, so refer to this website for news and information. Entry and viewing of our display is free!
Our museum awarded a Highly Commended at Museums Australia awards night in Canberra!

Recently our museum was judged one of Australia's best permanent displays by a team of judges from Museum's Australia, competing against some of Australia's best and biggest institutions!

The Minerals Heritage Museum is a member of Museums Australia.

Our museum has been accepted as a public museum by the Australian Taxation Office, and gifts of $2 and upwards are allowable deductions to donors for income tax purposes.
Download a printable brochure on the Minerals Heritage Museum with contact details included.